https://www.walter-machines.com/en/
Heinz-Jürgen Köhler
IT'S A REAL RACE: Which manufacturer will launch its new smartphone generation on the market, and with which features? Faster processors, better or more cameras, a larger screen, fingerprint sensor, facial recognition, rounded metal housing, a screen with a rounded edge. Manufacturers Samsung, Huawei and Apple, who together control half of the global market, regularly try to outdo each other. South Korean manufacturer Samsung landed a coup in this race in spring 2019, when it unveiled the world's first smartphone with a 5G mobile chip. The various phone generations incorporate know-how and machining power from WALTER and EWAG, the tool machining companies of the UNITED GRINDING Group. With classic cell phones the shell was manufactured using a plastic or metal die casting process. The die casting molds were generally produced with tools, which were in turn manufactured with WALTER machines. These are known as 3C tools according to the international abbreviation for Computer, Communication and Consumer Electronics.
PCD PROFILE CUTTERS
Since the iPhone 6 and Samsung Galaxy S5 smartphone generations, increasing emphasis has been placed on machining with tools produced by laser technology. On the Apple iPhone 6 for instance, the bevel on the aluminium housing is machined with PCD profile cutters. On the iPhone X however, stainless steel is integrated into the housing frame. These cannot be machined with diamond- coated tools such as PCD due to the chemical affinity with ferrous materials, and Tailor-made tools to meet customer requirements: Dr. Claus Dold, Head of Process Innovation at EWAG CBN cutters are used instead. These tools can also be manufactured with machines such as the EWAG LASER LINE ULTRA or the LASER LINE PRECISION. With new demands on design and technology, materials such as glass and ceramic are being used increasingly, not least due to the arrival of 5G smartphones. These materials offer a number of advantages. One relates to the reception quality of smartphones: "In principle, metal housings shield wave transmission in wireless communications", explains Andreas Bußmann, expert in terminal devices at Deutsche Telekom. Therefore, on devices with a metal housing, this is used for the antenna. "For this purpose however, it must be shielded from other integrated metal parts. This is done with plastic strips."
DIRECTLY ON THE BOARD
This shielding is not required on mobile devices with a glass or ceramic housing. "I can place the antennas directly on the board, which enables more design liberties", says Bußmann. And this design liberty is very welcome in 5G applications, because generally these require the integration of more internal antennas into the smartphone. The frequency used in Europe for 5G is 3.5 Ghz (4G: 2.6 Ghz), while in the USA and Japan the millimeter wave spectrum of 28 Ghz is used. In order to receive these frequencies, up to three antennas are integrated into the smartphones, and even up to four in the millimeter wave spectrum, which is particularly sensitive and practically needs a direct "line of sight" to the antenna. The main challenge here is not integrating the antennas into the device from the installation space perspective, but installing the antennas in such a way that they are not covered by the user's body.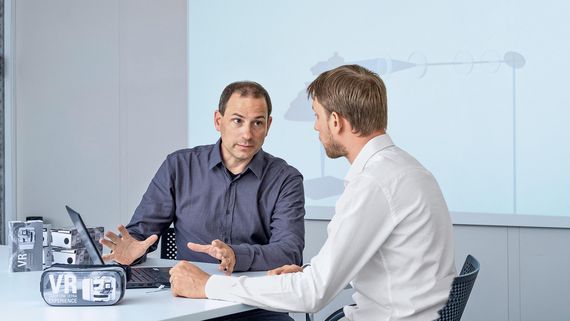 « SMALLEST INTERNAL RADII, TURNED PARTS, SHOULDERS AND OTHER GEOMETRIES CAN BE PRODUCED WITH THESE TOOLS. »
Dr. Gregory Eberle, Laser Technology Process Specialist, EWAG
In addition, glass or ceramic as materials for the cell phone shell are higher quality and more sustainable than plastic for instance, and allow greater freedom of design. A device like the Samsung Galaxy S10 thus dispenses with a metal back, to enable wireless charging of the device by induction. "Due to their brittleness, hardness and low thermal conductivity, materials such as glass or ceramic place quite specific demands on the tools used to machine them", explains Dr. Claus Dold, Head of Process Innovation at EWAG.
HIGHLY SPECIFIC GEOMETRIES
"We increasingly receive customer requests for 3C tools with highly specific geometries, for use in machining glass housings for instance", explains Dold. "To fulfill the particular requirements on customers' individual tools we then develop the machining and programming steps for our laser machines, to enable us to manufacture these tools." "The smallest internal radii, turned parts, shoulders and other geometries can be produced with these tools", says Dr. Gregory Eberle, Laser Technology Process Specialist at EWAG. In conventional machining, tools with these geometries would have to be assembled from several parts. With an EWAG LASER LINE ULTRA for instance, they can be produced fully automatically and in one work step.