Sustainability as part of our corporate strategy
Walter Maschinenbau GmbH has firmly anchored the topic of sustainability in its corporate strategy. People, society and the environment deserve the highest level of protection and we as a company have a great responsibility to deliver this protection. This responsibility has also been laid down in the Corporate Social Responsibility code of the UNITED GRINDING Group.
By regularly updating and analysing our greenhouse gas balance and deriving and implementing appropriate measures to reduce our emissions, we strive for continuous improvement.
"Tübingen macht blau" campaign: Climate Pact & KLIMAfit project
With the climate bill, the EU Commission has issued the target of reducing emissions by at least 55% by 2030. With our headquarters in Tübingen, we are proud to be based in a city that is at the forefront of achieving this goal with the Climate Pact. As part of the city's climate protection campaign "Tübingen macht blau", we have committed to helping the city of Tübingen become climate-neutral by 2030.
In 2023, we will be part of the "KLIMAfit" project for the cities of Tübingen, Reutlingen, Mössingen and Rottenburg. The aim of the project is to enable every company to independently calculate its CO2 footprint, providing an overview of the sources of its own emissions. With this knowledge, we can work to sustainably reduce our emissions. Participation will start in March and should be completed by September. Once the project is complete, we will receive a certificate. The CO2 footprint and the implementation of the defined measures will then be reviewed annually by an independent commission.
An energy audit is carried out in our company every four years in accordance with DIN EN 16247-1. The aim is to examine our consumption of resources so that we can also implement the necessary saving measures in this field.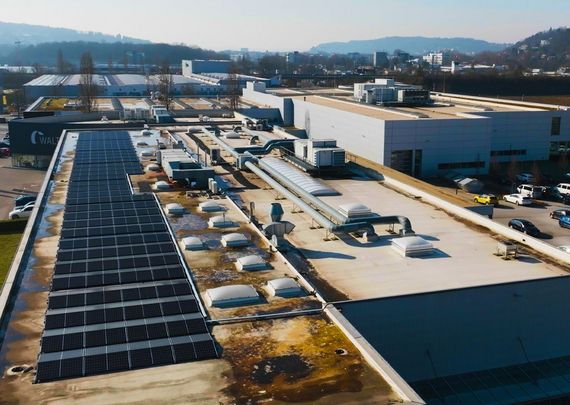 To reduce our use of energy from external sources in the future, we will produce part of the electricity ourselves with a photovoltaic system. This can be used for the air conditioning on our premises, as well as for operating the coolant systems of our machines in the demo center. This system has already been commissioned in Tübingen and will also be installed in Kuřim in the near future. We also achieved over 30% savings in gas in 2022. An alternative supply via heat pump for Kuřim is also being planned.
VDMA Blue Competence Initiative
As a member of the Verein Deutscher Maschinen- und Anlagenbau e.V. (VDMA) (German Engineering Association), the guiding principles for sustainable action are at the heart of everything we do. That's why we are also fully involved in the VDMA "Blue Competence" sustainability initiative and have included it in our corporate goals. All partners share common goals to shape the world of today, tomorrow and the future, because the challenges of our time can only be overcome with cutting-edge technology and technical innovations. This includes achieving more with fewer resources, taking responsibility and being a role model.
We also strive to meet the requirements of our customers as effectively as possible, who want to act both efficiently and sustainably and, for example, operate an energy management system in accordance with ISO 50,001, thus opening up attractive funding opportunities for them. When developing our HELITRONIC series tool grinding and eroding machines, we have always placed great importance on the continuous improvement of the environmental properties. This begins with the design of the machine and extends through production and over the entire life cycle of the machine, including the optimization of operating costs and the scrapping of the machine at the end of its life cycle. Further information and potential savings can be found in our energy efficiency flyer.