WALTER donates to Förderverein ARCHE Noah e.V. again
As in recent years, WALTER, a global leading manufacturer for the machine tool industry from Tübingen, decided to skip send a Christmas gift to customers and instead donated an amount to a charitable organization. The choice once again was to support the center of excellence for intensive pediatric outpatient care in Kusterdingen. To mark the occasion, on October 17, 2019, the official cheque handover took place at Walter Maschinenbau GmbH in Tübingen. The managing directors Christian Dilger and Gerhard Riester presented the representative of the "Förderverein ARCHE Noah e.V." Sandra Stopper with a cheque to the amount of 5,000 Euros.
« What makes us so enthusiastic about ARCHE's work is the "all around" view, which takes into account the individual abilities of each individual child in order to enable him or her to lead a self-determined life, despite his severe disability. »
Christian Dilger, CSO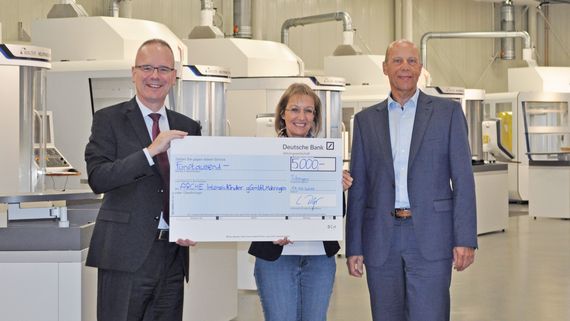 The ARCHE IntensivKinder offers intensive care in a child-friendly and familiar environment for permanently disabled children. All children who need a respiratory aid are offered a new home by the ARCHE IntensivKinder and are looked after competently and at the highest medical level by a children's nursing team, therapists, pedagogues, a parents' counselor and a pediatrician. The parents and siblings are also involved in the therapy of the children with respiratory diseases and are supported psychologically if necessary.