WALTER makes a new donation to ARCHE IntensivKinder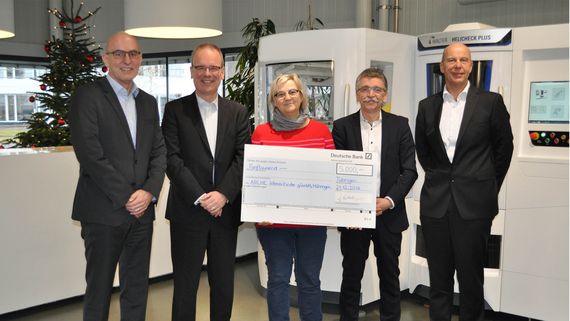 This year's as last, the charitable donation from Walter Maschinenbau GmbH went to "ARCHE IntensivKinder" in Kusterdingen.
As in recent years, WALTER, a global leading manufacturer for the machine tool industry from Tübingen, decided to skip send a Christmas gift to customers and instead donated an amount to a charitable organization. The choice once again was to support the center of excellence for intensive pediatric outpatient care in Kusterdingen.
ARCHE IntensivKinder provides intensive support and a home for children permanently reliant on respiratory aid. All children living in ARCHE IntensivKinder are in that condition as a result of serious illnesses, accidents or surgeries.
« Since children need intensive care 24 hours a day, care at home is often not possible. Here, a team of nurses, therapists, pedagogues, a parental consultant and a pediatrician doctor give expert care of the highest medical quality, »
Sabine Vaihinger, Managing Director at ARCHE IntensivKinder gGmbH.
says Sabine Vaihinger, Managing Director at ARCHE IntensivKinder gGmbH.
A donation ceremony took place in the demo room of Walter Maschinenbau GmbH in Tübingen on December 21, 2018. Walter Maschinenbau GmbH's four directors, Jürgen Schock, Christian Dilger, Harri Rein and Gerhard Riester, handed over the check for 5,000 euros to CEO Sabine Vaihinger.