WALTER starts online customer training
Due to the current corona pandemic and the associated protective measures, almost all planned customer training courses had to be cancelled. WALTER is now reacting with an alternative programme and offers some of its customer training courses online as interactive live webinars. In the past weeks, the first online training day took place - a customer-specific basic and advanced training on the basics of program creation in our measuring software.
The trainer, equipped with a headset and an additional camera, stands in our machine demo room in Tübingen and speaks into a laptop. On the other side, three employees of a customer in Germany are all sitting in a separate room, all looking into their laptops at the same time. This is how some customer training courses at WALTER currently look. With this ability, WALTER has spontaneously carried out the training originally planned at WALTER's premises, online - reacting quickly and flexibly to the current Covid-19 situation.
The participants of this training learn the exact procedure to measure a tool correctly with the software. In the basic training course, the participants gain machine knowledge that they can use to expand their skills in practice day by day. The advanced training course is aimed at participants who already have initial experience or basic knowledge. In both training courses we teach the customer efficient program creation in order to reduce unnecessary programming and program run times in the future. We can impart all this know-how to the participants virtually.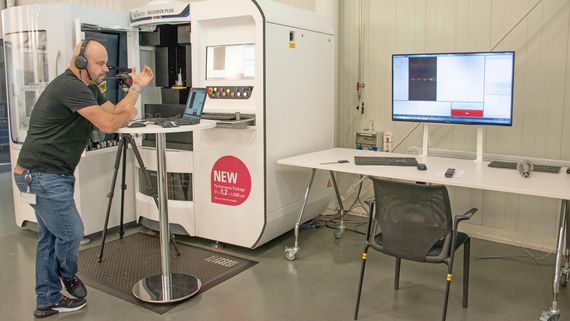 The online offer is an efficient supplement, which we will expand in the future. Our customers also benefit from the online offer: Normally, customers send their employees to us for several days of training so that the travel costs and travel time are worthwhile. With virtual training, the employees do not have to leave the company or the home office. This not only saves the customer travel expenses, but also valuable time, as the employees can return to their normal tasks immediately afterwards. In addition, the short training sessions promote the concentration of the participants and thus contribute to a more sustainable success of the learning content.
The demand for online training is currently very high. Further online trainings are already requested and planned. With every online training course that takes place, we also gain valuable experience and get new ideas. We always incorporate this new content into the next training course, so that we can improve ourselves with each training course. It is our goal to always respond individually to our customers and offer them the best possible training.
If you are interested in one of our customer training courses, please click here for more information.