Walter s.r.o. celebrates launch of a flow assembly line in Kuřim
Jürgen Schock, CEO of Walter Maschinenbau GmbH, welcomed the group of about forty invited guests followed by a short speech from project manager Markus Schulze about the flow assembly line project, before kicking off the official opening ceremony. Together, the entire project team pressed a start button to symbolize the official launch of the flow assembly line.
Construction work for the new line at the Czech production facility took about 14 weeks after which the system was installed. The new flow assembly line is a multi-million euro investment that represents an important milestone for Walter s.r.o. in Kuřim. A 90-meter-long, continuously moving conveyor belt now spans the assembly facility and runs directly into the shipping department. Once a machine has passed through the eighteen assembly stations, it is immediately packed in the shipping facility and sent to the customer. Workflows have been streamlined thanks to this increase in process stability and customers benefit from shorter delivery times as a result of the shorter lead times. Currently, the HELITRONIC POWER and HELITRONIC MINI POWER models are produced on the belt and it is planned that the HELITRONIC VISION 400 L will be added before the end of the year. Overall, the line will dramatically increase flexibility. Component assembly is also arranged according to a fishbone diagram in order to feed the line directly.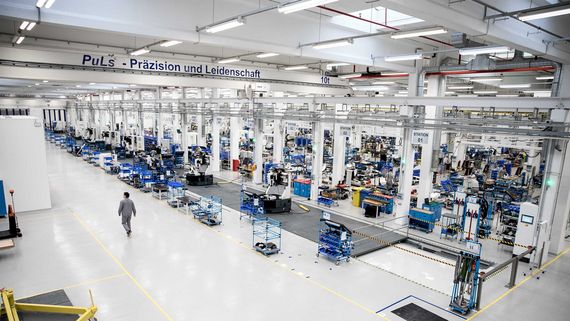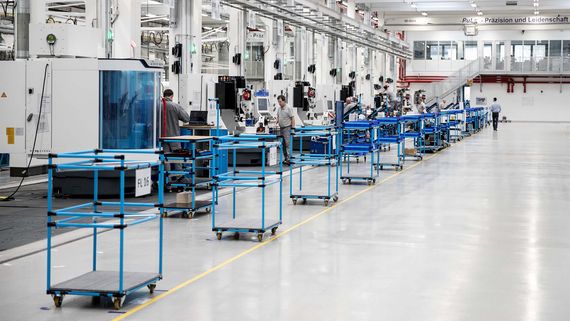 The supply of materials to assembly was also reorganized and adjusted to suit the new flow assembly line. Various activities to improve the supply of materials to the flow assembly line, such as a pick-to-light system, were simultaneously implemented. Further measures are already in planning for the logistics area.